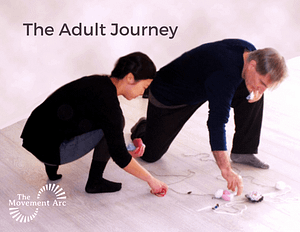 Course description
This course focuses on applying Dance/Movement Therapy to the development, wellbeing and treatment of adult populations of all ages. It includes a review of the developmental tasks and stages in adult development (18 plus years).
The class covers the early, midlife, mature and late stages of adulthood, and looks at unique DMT applications for relationship, sexuality and reproduction, marriage, parenting, identity, trauma healing, mental health issues, career/work issues, loss/grief, and the various transitions and rites of passage of adulthood, as well as issues of death and dying and diseases and ailments common to aging.
Prerequisites
It is required that all students taking this class for alternate route credit have taken Introduction to DMT I and II, (or similar equivalent introductory DMT courses), and it is highly recommended that students have also completed The Moving Child Courses Part I and II. Student membership with the ADTA is recommended to support access to American Journal of Dance Therapy readings. 
Course Objectives
 1.Students will understand how DMT can be used to support adults with a variety of challenges/issues in a variety of clinical settings including private practice. (ADTA: 1.7, 2.1.2, 2.2.1, 2.2.2, 2.2.3, 2.2.4, 2.2.5, 3.23, 4.2, 4.3, 4.15) 
Students will learn and understand the developmental stages of adulthood. (ADTA: 2.3.1, 2.3.2, 2.3.3, 2.3.4, 2.3.5, 2.3.6, 2.3.14)

Students will explore a variety of forms of movement therapy forms (both historic and present) designed for adults, including an overview of basic techniques consistent across forms; such as:

 


-how to support adults to make connection with their bodies and become aware of sensations.
-how to support sequencing for the movement and integration of feelings.
-how to open up self-expression.
-how to stay within the "Window of Tolerance" for the client when navigating memory or trauma (trauma-informed approach).
-how to help an adult to expand their movement repertoire.
-how to support meaning-making of spontaneous, creative movement.
(ADTA: 2.1.3, 2.2.6, 2.2.7, 2.2.12, 2.2.13, 2.2.14, 2.4.4, 2.4.9, 3.15, 3.16, 3.17, 3.19, 3.26, 3.27, 3.28, 3.29, 3.38) 

Students will learn the importance of a strength-based approach to treatment. (ADTA: 2.4.2, 2.4.12, 3.45, 3.46) 

Students will learn how and when to engage which forms of movement therapy and contra-indications for particular forms depending on a patient's goals, trauma history, desires, cognitive capacity and ego-strength. (ADTA: 2.3.7, 2.4.5, 2.4.10, 3.6, 3.12, 3.13, 3.20, 3.21, 3.25, 3.31, 3.35) 

Students will learn how to assess adults, set goals and track progress from a DMT perspective specific to working with adults, and how to discuss goals, assessment and progress with adult clients in a respectful way. (ADTA: 2.2.8, 2.2.9, 2.2.10, 2.2.11, 2.5.6, 2.5.7, 2.5.8, 2.5.12, 2.5.13, 2.5.14, 3.1, 3.2, 3.4, 3.11, 3.39, 4.10, 4.21, 4.28, 4.29) 

Students will learn to include all aspects of the diversity of individuals' identity including gender, ethnic background, race, culture, disability, and spiritual affiliation. (ADTA: 2.3.9, 2.3.11, 2.3.12, 2.3.13, 3.14, 

Students will also demonstrate understanding how to communicate the methods and merits of DMT with adults to other mental health professionals. (ADTA: 2.5.9, 3.7, 3.8, 4.4)